Due to the COVID-19 this will now be a virtual event held on Zoom.
Join author Jaimal Yogis for virtual storytime on Saturday, July 31st at 11:00AM! Jaimal will be reading the second book in the Mop series, Mop Rides the Waves of Change. Also joining the event will be illustrator Matt Allen, who will lead us through a "How to Draw Mop" tutorial after the storytime reading.
This is a VIRTUAL event and will take place on Zoom. You must RSVP to attend. Fill out this form to RSVP. We will respond with the event info within 48 hours.
This is a free event. If you are able, a donation of $5 is suggested to help us cover costs. Donate here. You can also order a copy of Mop Rides the Waves of Change below.
---
ABOUT THE BOOK
The second in the Mop Rides series! Surfer kid Mop and his friends are back in a quest to save the ocean with mindfulness, surfing, and a band

Mop and his friends are back, this time with a band, The Coconut Heads. Mop is riding high from the lessons he's learned about riding the waves of life: to breathe, ride the good waves, and let the bad waves go by. But just when he feels like he's getting the hang of it, he notices a turtle tangled in plastic at the beach. Paddling out to catch a wave, he sees more plastic, and he can't get rid of his anger. It seems like he's back to square one. But after an epic wipeout, he has a realization: deep down, under the anger, is love. He loves the ocean, and he wants to help keep it clean.

But how? Let's just say it involves some party waves and a benefit concert by the Coconut Heads--and it's not just their parents who show up.

Celebrated San Francisco surfer-journalist-dad Jaimal Yogis teaches 4-8 year-olds timeless beach wisdom with the continuing story of Mop, a sensitive and fun-loving kid who just wants to be in the ocean. With stylish full-color beachy illustrations from cover to cover by So-Cal surfer Matt Allen.
ABOUT JAIMAL YOGIS
Jaimal Yogis is the author of numerous books including Mop Rides the Waves of Life, Saltwater Buddha, and All Our Waves Are Water, which was named a "Best Beach Read of 2017" by the BBC. His work has been featured in the pages of O, the Oprah Magazine, Outside, Forbes, The Atlantic, ESPN Magazine, and many others. He lives and surfs in San Francisco with his wife, Amy DuRoss, and their three sons.
ABOUT MATT ALLEN
Matthew Allen is a surfer and artist from Southern California. A former Surfer Magazine Art Director, Matthew now spends his days creating art based on his favorite muses, the mercurial sea and the amalgam of people and vessels that operate in and around it. Matthew lives in Costa Mesa, California.
---
Books: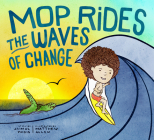 $16.95

ISBN: 9781946764881
Availability: On Our Shelves Now
Published: Plum Blossom - July 20th, 2021
The second in the Mop Rides series! Surfer kid Mop and his friends are back in a quest to save the ocean with mindfulness, surfing, and a band

---