Black Boy, Black Boy (Hardcover)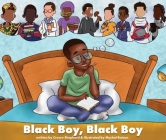 $18.95
Not On Our Shelves, Warehouse ships in 1-5 Days
Description
---
Black Boy, Black Boy, what do you see?
I see a bright future ahead of me
A melodic mantra with a powerful message: Black boys can be a doctor, a judge, the president . . . anything they want to be
Each page depicts a boy looking into the future, seeing his grown-up self, and admiring the greatness reflected back at him. This book is created to teach Black boys there are no barriers-if you can dream it, you can be it
This book is for Black boys so they see themselves as the heroes of the story.
This book is for Black boys so the repetitive patterns help them learn to read.
This book is for Black boys so it will become a subconscious mantra-the things you say to kids become what they think. And Black boys can be anything